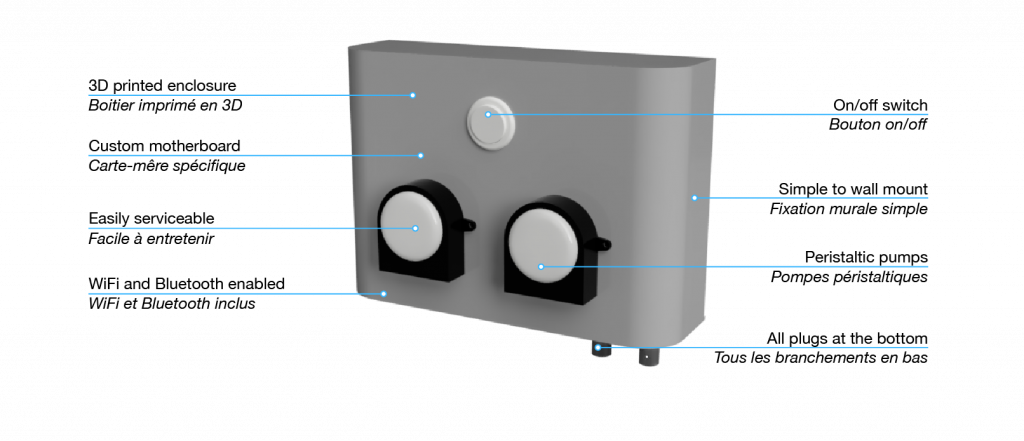 BOPI is an easy to install and easy to use pool management box. It'll take care of 90% of the work and let you enjoy your pool while spending less time worrying about its state and taking care of it.
BOPI est une box de gestion de piscine facile à installer et utiliser qui s'occupera de 90% des tâches de maintenance de votre piscine, vous libérant du temps pour en profiter sans avoir à vous inquiéter de son état.
BoPi was created by a pool owner and operator because he wanted to make his life easier. Now every pool owner and operator can benefit from BoPi and spend more time enjoying their pool and less time worrying about maintaining it.
BoPi a été crée par un propriétaire de piscine pour se simplifier la vie et avoir une piscine moderne. Maintenant tous les propriétaires de piscine peuvent béneficier de BoPi pour se simplifier la vie et profiter plus de leur piscine sans avoir à s'inquiéter autant de la maintenance.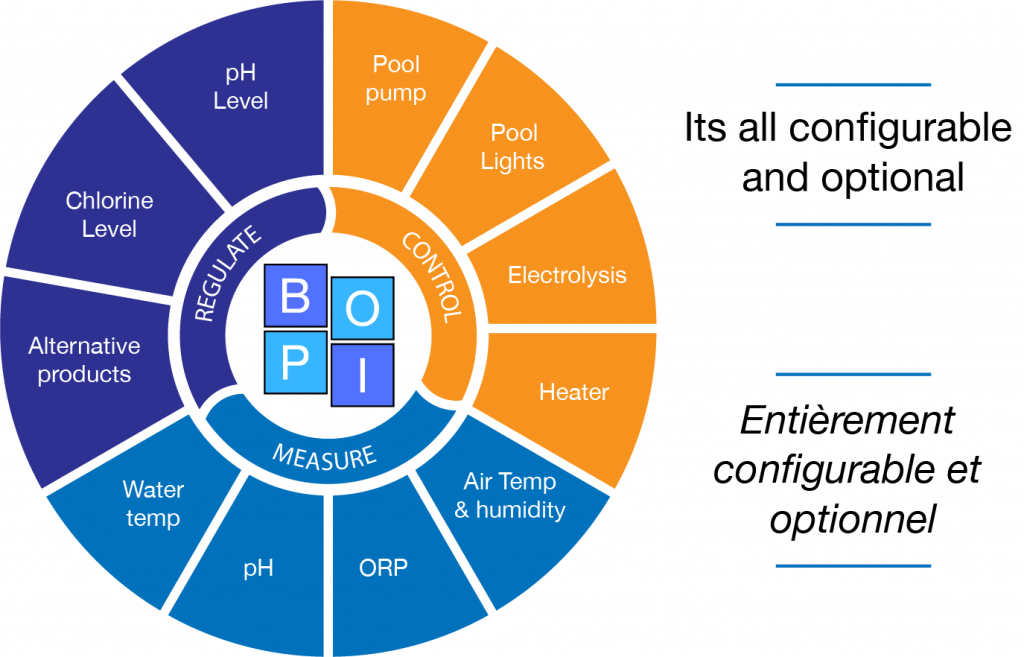 BoPi can manage many aspects of your pool but because BoPi is smart, you can use it for what you want or need without having to enable it all. BoPi is entirely configurable and you can define what you want to use and how. As an example, you could use the dry contacts for the garden lights and a fountain instead of Electrolysis and Heater. Its up to you to make BoPi your perfect companion.
BoPi peut gérer de nombreux aspects de votre piscine mais parce que BoPi est malin, vous pouvez l'utiliser pour ce que vous voulez et ce dont vous avez besoin sans avoir besoin de tout utiliser. BoPi est entièrement configurable et vous permet de définir ce que vous souhaitez utiliser et comment. Par exemple, vous pourriez utiliser les contacts secs pour contrôler les lumières du jardin ainsi qu'une fontaine au lieu de l'électrolyseur et du chauffage. Faites de BoPi votre compagnon idéal.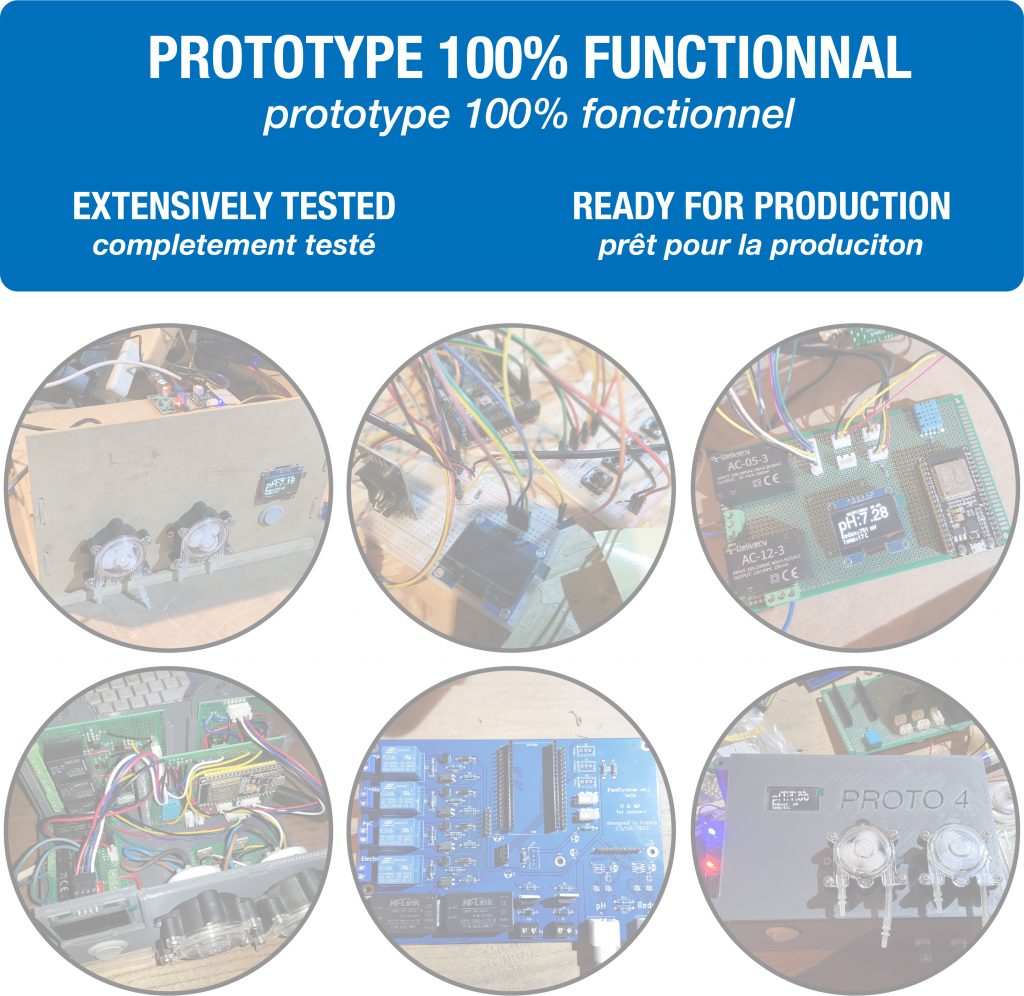 BoPi works, it has been thoroughly tested. There have been quite a few prototypes and we even tested the peristaltic pumps to their limit to see what failed, they'll be just fine. The crowdfunding campaign will allow us to mass produce the circuit board and the enclosures so that we can assemble them faster and deliver it. We have multiple sources for all components and alternative for critical electronic components that may suffer shortages. You could put our latest prototype on your pool and it would run for years.
BoPi fonctionne, il a été longuement testé. Il y a eu plusieurs prototypes et nous avons même testé les pompes péristaltiques jusqu'à leur limite pour trouver le point faible, tout ira bien. Cette campagne nous permettra de produire le circuit imprimé et le boitier par lot afin de pouvoir les assembler plus vite et les expédier. Nous avons identifié de multiples sources pour l'ensemble des composants et avons identifié des alternatives pour les composants électroniques critiques qui pourraient souffrir des pénuries actuelles. A ce stade, vous pourriez installer le dernier prototype sur votre piscine et il fonctionnerait pendant des années.
BOPI is fully controlled from your smartphone or tablet, its all you need to check up on and change the settings of your pool. No need to even go to the pool to know if its good for use and warm enough. The BOPI app works on Android and iOS
BoPi est entièrement contrôlé par votre smartphone ou tablette, c'est tout ce dont vous aurez besoin pour surveiller et ajuster votre piscine et savoir si elle est prête pour une baignade. L'app BoPi existe pour Android et iOS.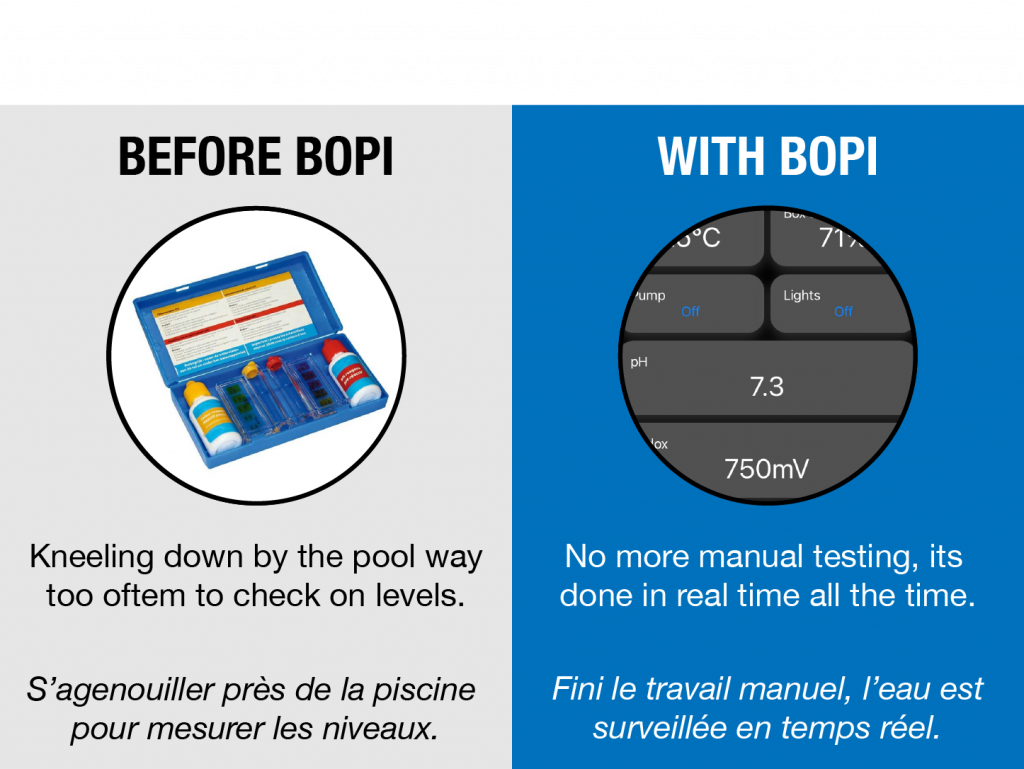 BOPI measures your pool constantly for pH value (water acidity) and ORP (water cleaning power) avoiding the need for you to kneel down and use any form of testing kit on a regular basis to make sure everything is ok. As a bonus, BOPI also measures your water temperature, air temperature and air humidity, giving you all this information on your smartphone whenever you want it.
BOPI mesure la qualité de l'eau de votre piscine en continu, spécifiquement le pH (acidité de l'eau) et l'ORP (potentiel détergeant de l'eau) afin de vous éviter d'avoir à utiliser un kit de test de l'eau régulièrement. En bonus, BOPI mesure aussi la température de l'eau, la température de l'air et l'humidité de l'air, vous donnant accès à toutes ces mesures sur votre smartphone quand vous le souhaitez.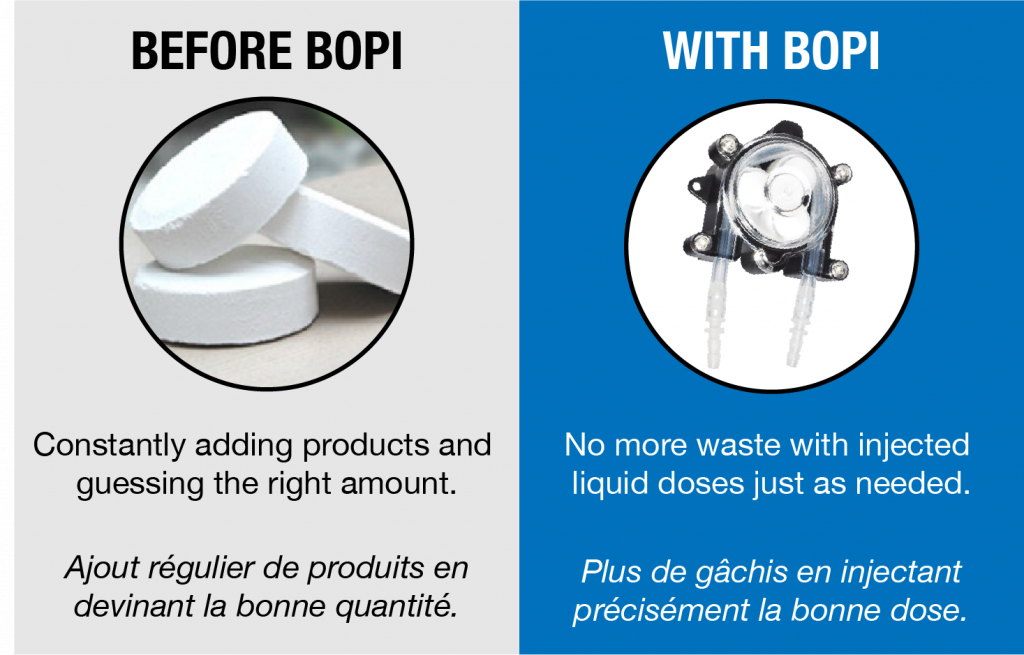 Be done with throwing random amounts of chemicals in your pool and on your hands. Let BOPI use liquid products (commonly avaliable at any pool shop) to precisely adjust your pool levels for you. Using liquid pH- and liquid Chlorine, BOPI can take care of everything leaving you only to replace the containers every few months to yearly pending on your pool size and climate.
Fini de jeter des quantités aléatoires de produits chimiques dans votre piscine et sur vos mains, laissez BOPI injecter précisément la bonne quantité de produit en utilisant du pH- liquide et du chlore liquide (si applicable) vous laissant pour seule tâche de remplacer les bidons après plusieurs mois ou une année selon votre piscine et le climat.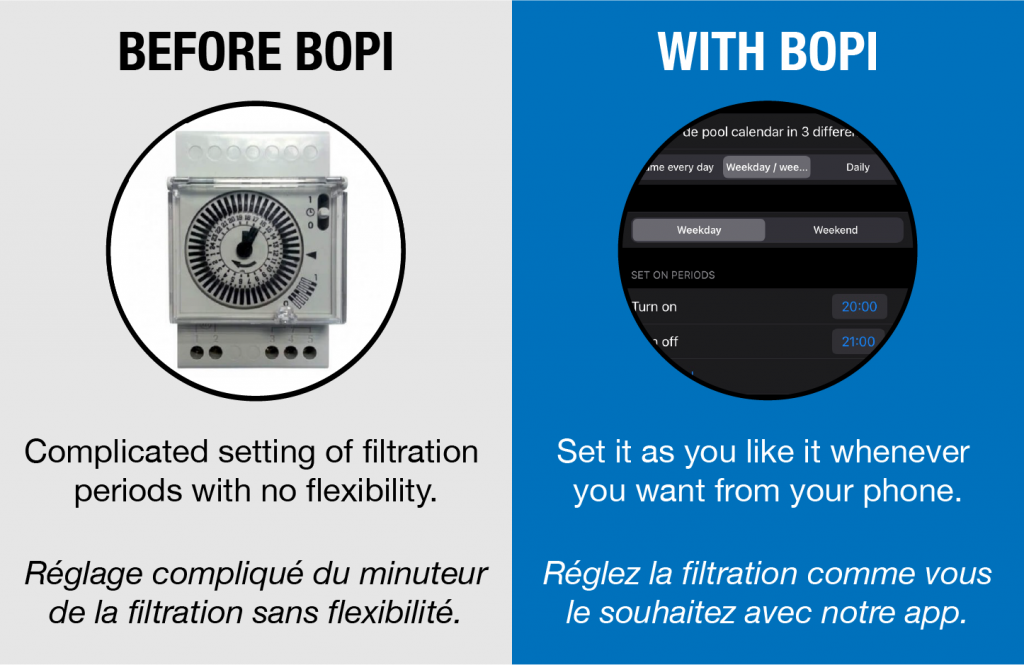 No more dumb timer to plan filtration times, BOPI wil let you decide when and for how long you want it to run, allowing for 3 modes : same everyday, different each day or weekday/weekend. Of course you can also turn it on or off whenever you want. BOPI also offers a winter mode if you need it, running your pool X minutes / hour (10 for example) when the temperature dips below 3°C (37°F) to avoid if freezing.
Fini le minuteur antique, BoPi vous permet de définir vos temps de filtration intelligemment et en fonction de vos besoins avec 3 modes : pareil tous les jours, différent tous les jours et semaine/weekend. Vous pouvez évidemment l'allumer ou l'éteindre à tout moment. BoPi propose également un mode hiver qui fera tourner la filtration X minutes / heure (10 minutes par exemple) lorsque la température est sous 3°C.
BoPi was designed to be easy to install and setup. You can have it done by a pool specialist or an electrician but with our video guides you can also install it by yourself with minimal tools. The video guides will be published on the final version before BoPi ships out.
BoPi a été conçu pour être facile à installer et configurer. Vous pouvez le faire faire par un spécialiste ou un électricien mais avec nos guides vidéo, vous pouvez le faire vous-même avec des outils simples. Les guides vidéos seront réalisés sur la version définitive avant l'expédition de BoPi.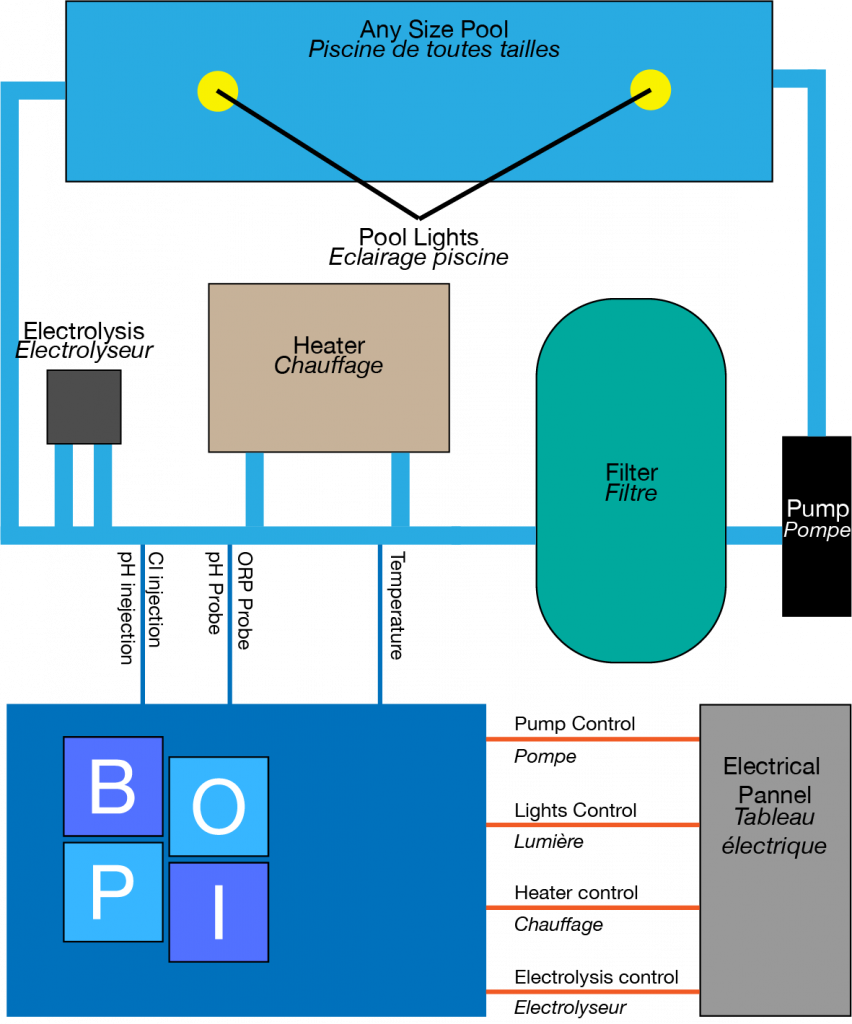 BoPi interfaces with your pool's electrical system and plumbing to take control of your pool while you manage it from your smartphone via a dedicated app (iPhone and Android). With the app you can define your pH and Chlorine targets, set the pump calendar (3 modes) and turn on the pool lights whenever you feel like it. You can check on your pool easily from anywhere at anytime. BoPi does require a wifi signal to be able to communicate further than BlueTooth range but it can work perfectly without it once setup and just do its business without disturbing you.
BoPi s'interface avec le système électrique et la plomberie de votre piscine pour en prendre le contrôle et vous permettre de la gérer depuis votre smartphone au travers d'une app dédiée (iPhone et Android). Avec cette app, vous pouvez configurer vos objectifs de pH et de Chlore, définir le calendrier de fonctionnement de la pompe (3 modes) et allumer les lumières de la piscine quand vous le souhaitez. Vous pouvez ensuite surveiller votre piscine de n'importe où et n'importe quand. BoPi nécessite un signal WiFi pour communiquer au-delà de la portée du BlueTooth mais peut parfaitement fonctionner sans cela et maintenir votre piscine comme vous l'avez configurée sans vous déranger.

Its not an easy question without knowing what your pool looks like or is but for most cases, we recommend you get the naked one. The reason for that is that you may already have sensors from your existing setup and if you don't, sensors and mounting hardware can be sourced online from major websites or locally so you can get only what you don't have. In any case, we'll be offering them for sale on our website when we start shipping BoPi and will provide you with the information you need to order what you need. We do not aim to be a sensor or hardware reseller, others are already very good at this. Our goal is to distribute BoPi.
Also, if your plumbing is not 2″ or 54mm in diameter, our mounting hardware won't fit and you'll need to source the appropriate size online or locally. In such a case, you definitely don't need the complete kit and should only limit yourself to the naked or sensor perk.
Ce n'est pas une question évidente sans connaitre votre piscine mais dans la plupart des cas, nous recommandons BoPi nue. La raison pour cela est que vous avez peut-être déjà des sondes dans votre installaition actuelle. De plus, les sondes et les pièces de montage (colliers de prise en charge) peuvent être trouvés en ligne ou locallement, vous permettant de n'acheter que ce dont vous avez besoin. Dans tousl les cas, nous proposerons les sondes et pièces de plomberie au détail sur notre site lorsque nous expédierons BoPi et nous vous fournirons les informations pour pouvoir trouver ces produits ailleurs. Notre objectif n'est pas d'être un revendeur de sondes ou de plomberie de piscine, d'autres le font déjà très bien. Notre objectif est de distribuer BoPi.
Si votre plomberie de piscine n'est pas en 54mm ou 2″, les pièces de plomberie proposées actuellement n'iront pas et il faudra que vous commandiez la bonne taille localement ou en ligne. Dans ce cas, vous n'aurez aucune utilité du kit complet et devriez vous limiter à la version nue ou avec les sondes.

We can't decide for you but here are a few pointers to help you decide.
All of BoPi's sensors and mounting hardware can be sourced easily and cheaply online or locally worldwide. They are standard equipment and ours are no different. You could order the naked BoPi and use existing sensors or order the ones you need without our help and we'll provide guidance to help you find them.
The mounting hardware offered with BoPi is for 2″ (54mm) diameter plumbing. If yours isn't that size, you can find any size online or locally and will not need our complete kit.
We will offer sensors and mounting hardware as well as hopefully other mounting solutions on our website or through affiliate links once BoPi ships out so you'll be able to order them easily to complete or replace what you already have.
If you get BoPi naked, you can set it up and use it to control your pool and can add sensors at a later date if you so decide.
Nous ne pouvons pas décider pour vous mais voici quelques infos pour vous aider à choisir.
Toutes les sondes et pièces de plomberie peuvent être facilement achetées en ligne ou localement dans le monde entier. Ce sont des modèles standards et les notres ne sont pas spécifiques ou peu communes. Vous pourriez commander BoPi nue et utiliser vos sondes éxistantes ou commander celles que vous voulez et nous vous fournirons les informations pour les choisir.
Les pièces de plomberie (colliers de prise en charge) fournis avec BoPi sont pour de la plomberie de 54mm (2″). Si votre plomberie est d'un diamètre différent, vous devrez commander la bonne taille en ligne ou localement et n'aurez pas besoin de notre kit complet.
Nous proposerons à la vente les sondes et pièces de plomberie au détail ainsi que nous l'espérons d'autres solutions de montage sur notre site ou via des liens affiliés une fois que BoPi sera expédié pour que vous puissiez facilement les commander ou vous le souhaitez.
Is vous commandez BoPi naked, vous pouvez l'installer sur votre piscine et l'utiliser pour la controler puis ajouter les sondes ultérieurement si vous le souhaitez.
BoPi can be installed with basic tools without any need for prior experience. Take your time, follow our installation guide to splice a few wires and add a few pieces to the plumbing and you're good to go. This can all be done with minimal downtime.
BoPi peut être installé facilement avec un minimum d'outils et sans expérience préalable. En suivant notre guide d'installation, vous pourrez facilement réaliser les quelques branchements électriques et ajouter quelques colliers de prise en charge sur la plomberie.
BoPi is built to last but accidents can happen so because we not only care about your pool but also the environment, we made sure that all electronic components of BoPi are easily sourceable and can be replaced without making BoPi inopérant. We have also considered spare parts and have made sure that the sensors and the pumps are easy to source and easy to replace by commonly avaliable parts.
BoPi est conçu pour durer mais comme un accident peut arriver et que nous ne nous intéressons pas qu'à votre piscine mais aussi à l'environnement, nous avons fait attention à ce que tous les composants électroniques soient facilement trouvables et puissent être remplacés sans rendre BoPi inopérant. Nous avons également considéré les pièces détachées et avons pris soin que les sondes et les pompes soient des pièces largement disponibles et faciles à remplacer.



BoPi can be installed by anyone, no need for a professionnal. You just need a few simple tools to follow our step by step guide.
BoPi peut être installé par n'importe qui, pas besoin d'un professionnel. Vous aurez juste besoin de quelques outils simples pour suivre notre guide étape par étape.
BoPi doesn't require a subscription to work.
BoPi ne nécessite pas d'abonnement pour fonctionner pleinement.
BoPi can work with most home automation systems as it povides a restApi. We hope to provide custom modules for the most common ones but anyone can make their own.
BoPi peut être intégré avec la plupart des systèmes de domotiques via une api Rest. Nous souhaitons proposer des modules pour les systèmes les plus communs mais n'importe qui peut en faire un.
The mounting hardware necessary for BoPi can be sourced local from any pool specialized shop and online in various sizes to suit your pool's plumbing.
Les pièces de plomberie nécessaires au montage de BoPi peuvent être trouvées dans les magasins de piscine dans différentes tailles pour convenir à votre piscine.
BoPi's sensors are standard sensors that can be sourced at any pool equipment store and online.
Les sondes de BoPi sont standard et peuvent être trouvées dans les magasins de piscine ou sur internet.
We will provide you with step by step video installation guide of BoPi as well as multiple how-to videos for setup and usage. These videos will be published before BoPi ships out and made on the exact product you will recieve.
Nous proposerons un guide de montage vidéo avec la version finale de BoPi ainsi que des guides pour la configuration et l'utilisation. Ces vidéos seront publiées avant l'expédition de BoPi.
Planned shipping date is for the first 100 units of BoPi. We will ramp up production as needed but those may ship out a few weeks later pending quantities.
La date d'expédition annoncée est pour les 100 premières commandes, nous augmenterons la production si besoin mais celles-ci seront expédiées dans les semaines suivantes.
Don't miss out on this campaign, if you do, we may not be able to get BoPi to you for this pool season.
Ne manquez pas cette campagne, si vous la ratez, nous ne sommes pas certains de pouvoir vous fournir BoPi pour cette saison.